Artsmark Gold!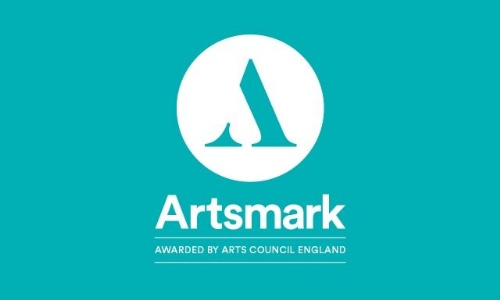 It is with great pleasure that I share with you the news that we have been successful in achieving Artsmark Gold Award.
This has been a journey we have been on since 2017 and has resulted in many collaborative creative arts project across the secondary and primary school, creative teaching strategies embedded into all subject areas, creative CPD, a wide range of enrichment opportunities, targeted creative opportunities for key students and a celebration of creativity and imagination in the Artsmark festival 'Letting off Steam'. This gave us a platform for all students to experience, participate and interact with a range of different creative activities and live performance whilst understanding how these opportunities can have a positive impact on our mental health. A film was created to use as a tool to promote creativity as a way of dealing with and addressing metal health and wellbeing as well as documenting this unique festival experience for all our students.
The following comments were made about our journey:
Your school has clearly understood the potential value of the Arts to your pupils' lives and learning. Your Arts festival's effect on pupils' perspectives about mental health was impressive and it is important that you share this approach more widely, both by using the film you have made and also by using your pupils themselves as ambassadors. While you have not yet seen positive effects of the creative teaching approaches on pupil attainment, you are right to remain committed to the long-term benefits that your pupils will reap. You have seen real benefits in the development of pupil leadership and in bringing your different settings together. It has been valuable to use arts specialists from your secondary phase to support arts teaching at the primary phase, just as it has been beneficial to look at extending the pedagogy of the REAL projects at the primary phase into secondary practice. You have targeted vulnerable pupils to give them creative experiences and it would be good to know of the impact this has had. As you move forward, it is good that you plan to continue developing CPD in partnership with external providers and to offer Arts Awards, which will give pupils greater ownership of their artistic lives. As you gather evidence of the impact of the Arts on your pupils' attainment and wellbeing over time, you will be able to lead the way in advocating for the Arts beyond your setting. Your thoughtful understanding of the importance of the Arts to children's overall development is impressive and should be shared widely.
The link to the film is here: https://vimeo.com/viewing/letting-off-steam
We look forward to sharing this film and experience with other school and continuing on our journey in making creativity and imagination vital to the way we learn and experience life. Many thanks goes out to all the students and staff that have worked so hard to realise our targets and aims set out at the beginning of this journey, what a great start and recognition to take us forward.